Yes, that photo is me and a brand new just-hours-old baby — MY baby, in fact, who came into the world in October.
"A baby, what?!" you're thinking. I know — I really kept it on the down-low, up until the last few weeks of pregnancy when I posted a preggo pic to Instagram and then went on national radio to talk about the adventure (jump ahead to 5:30 to hear the story).
Short version as of today: she is magnificent and we're all doing really well.
I mean, I'm exhausted to my core, but she is a delight, healthy and strong, and, this week, hell-bent on learning to roll over. It's the best.
And lately while she naps, I've been sitting at my keyboard and picking up my guitar — after almost two years since I last played a show, I've got two special gigs coming up in Toronto and Vancouver.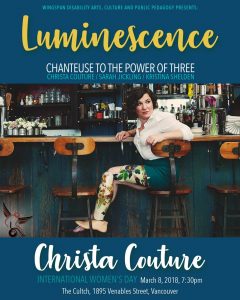 Sunday February 25, with Tara Williamson
The Burdock, Toronto, ON
Early show | doors 6pm | Get tickets here
Thursday March 8, with Sarah Jickling and Kristina Shelden
The Cultch, Vancouver, BC
7:30pm | Get tickets here
As I wrote in May last year, I had to take time off from performing after my voice was injured in 2016. It's been a slow recovery, but I finally feel ready to sing for you again. These two shows, in my two home towns, are going to be a chance to see how it feels to be back on stage. I'm nervous and excited and I hope to see many of you there.
Other than practicing, the only singing I have been doing is lullabies for the little one. CBC's Now or Never came by and captured me singing this lullaby I wrote. Warning: may cause drowsiness.
From a very snowy day in Toronto to wherever you are — hopefully keeping warm and dry,
Christa