High Res Promo Photos
Photography credit: Jen Squires
Click to open large versions or right click to save-as
High Res Album Cover – Safe Harbour (March 2020)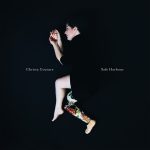 Downloadable Press Release – Safe Harbour
The second single from Safe Harbour, 'Water to Sail':
Press:
LIVE PERFORMANCE
"after seeing her live once, you'll want to see her again."
Chartattack
"Christa Couture's set was a lesson in rapt attentiveness."
Exclaim!
SAFE HARBOUR
(EP, March 20, 2020)
"Safe Harbour is anything but safe: the daring six-track release is full of risks, both lyrically and sonically… an honest, entertaining journey" Exclaim!

"As always, this wonderful talent delivers beautiful, hypnotic melodies and vocal harmonies to wrap around and tuck carefully under your pillow as the dark night descends." Lonesome Highway, Ireland
"Bound to bring a sense of well being in a pandemic world…The writing is some of her best." PostMedia

LONG TIME LEAVING
(LP, April 15, 2016)
"A brilliant career-defining project." The Whole Note
"Couture is a spectacularly good songwriter; but it's her voice and delivery that sets her apart from everyone else in the field." Rocking Magpie
"An honest, musically rich album that is instantly likeable." Penny Black Music
"If you go for fine song writing with real bite, heartfelt cutting vocals and classy but understated musicians then this is for you." NE:MM
THE LIVING RECORD
(LP, September 6, 2012)
"Best of 2012" picks: CBC Music, The Georgia Straight, Corby's Orbit.
"my favourite listen of the year so far"
Lonesome Highway, Ireland
"…criminally underrated singer-songwriter"
The Georgia Straight
"a remarkable chanteuse, singing superb material, tastefully arranged and produced. Couture's voice floats over the album's pop-roots foundations like a butterfly over a garden. Some reviewers hear Jane Siberry, Joni Mitchell; Tori Amos might also come to mind at points. But that's merely a way of saying Couture's work has the combination of accessibility, and emotional depth such thoughtful writers have in common."
Roots Music Canada

"It helps to have writing chops hot enough to entice the likes of Jim Byrnes to duet with you on the charming Paper Anniversary… the lyric recounts the depth of enduring romance in a way that puts the song firmly in the territory of some of those great Second World War classics like I'll Be Seeing You."
The Province
"a breathtakingly beautiful record about moving on from loss and letting the light back in… Indeed, there's something jubilant about the lush, cinematic soundscapes and what they bring out in Christa's voice."
Uptown Magazine

"A nimbly shuffling roots-rock number finds the B.C.-based songstress freely spirited and alive and well…"
Essential Tracks, Globe & Mail
"Couture shines with inspiration and perseverance. She brings change to those that need it, and a complex sound to those that love the art of folk-style storytelling."
Regina Leader Post
THE WEDDING SINGER AND THE UNDERTAKER
(LP, May 2008)
"This pretty little record… will just melt your heart."
Jessica Russel | TV Guide
"With her gorgeously intimate voice—somewhere between the tough vulnerability of Amy Rigby and the passionate, sophisticated folk of Joni Mitchell—Christa Couture sings with heart-on-sleeve intensity about the suffering and loss she has faced in her life. …It's truly remarkable that listening to The Wedding Singer and the Undertaker does not feel like the aural equivalent of ambulance chasing. This is down to Couture's writerly, at times even playful, skill with words as well as the uplifting production, once again by Futcher (Be Good Tanyas), who embellishes these fraught missives with billowing string and horn arrangements, tub-thumpimg stand-up bass and Couture's crystaline piano and acoustic-guitar playing. Nevertheless, if you can hold back the tears whilst listening to 'A Grief as This', as a sweet trumpet blows to the heavens, you're a better man than this reviewer."
Alan Brown | Pop Matters
"her voice is so powerful and flexible that she seems at home in all the styles."
Hero Hill
"A declaration of what girlie folk-rock-pop is meant to be: full-tilt charm, naturally. The Wedding Singer & The Undertaker is genuinely good stuff."
Karolina Rous | SoundProof
"It only takes the opening bars of Christa Couture's "Sad Story Over" for the Vancouver singer's quirky style to get under the listener's skin"
Vancouver Courier
FELL OUT OF OZ
(LP, December 2005)
"…pop that could rival any Nelly Furtado song"
UWO Gazette, London
"Breathless and intimate, Couture caresses the microphone with coy lyrics that discuss the very nature of emotional closeness over spartan, live-off-the-floor arrangements for acoustic guitar, upright bass and brushy drums. 4 out of 5 stars."
TV Week
"Christa's enthusiasm for writing and vocalizing are obvious by the first song… sugar for your ears"
Youthink, National
"The deft guitar work and crystalline production values mark Couture as an emerging force who won't be buried under other performers of her ilk."
Shannon Whibbs | Chartattack
"The record, her debut long player, is intimate enough that whiffs of Couture's organic soap are caught. Thoughtful and graceful stuff comes from Couture. Oz' loss is our gain."
Brad Wheeler | Globe & Mail
"her and her guitar makes an almost holy sound"
4 out of 5, Edmonton Sun
"She sings with an intimacy that feels like you are being let in on a secret."
Tom Harrison | The Province