In 2012, when I crowd-funded about half of the costs for my album The Living Record, I delighted in fulfilling the perks.
Most of them, anyway.
The t-shirts I did not plan well, and custom making them left almost no room for error, which put a lot of stress on my partner at the time who was the one doing the actual screen printing work… I remember us both near tears in exasperation, surrounded by t-shirts hanging off every part of our house: the bookshelves, the shower curtain rod…
Since then, I've only hired-out for screening printing. Phewf.
For my new album Long Time Leaving's pre-order, I've ditched t-shirts, personalized songs, wee pieces of art, and kept just my favourite extras to give you: a lyric poster, and the song story postcards. As for the latter:
I like to tell stories (this you know).
And I love sending mail. Postcards in particular for me conjure travel and wandering and thinking and remembering and reminding; quick hellos and short stories.
I first wrote song stories for my EPs Loved and Lost in 2011. It gave me a chance to give what I do on stage — offer back story, insight into my song's origins — in a new format. It meant those stories could have farther reaches in their new mode of transportation.
For The Living Record, I wrote song stories for ten of the  album's pieces, and I felt like I was letting you in on a secret; one I wanted to tell.
Most of the postcards were written while on the road: in a couple spare hours before a show, in  a park or coffee shop near the venue, or on a day off. Dropping a big stack of postcards into a mailbox in one fell swoop is a satisfying feeling. I have to admit: I never quite trust Canada Post. Maybe trust isn't the word, it's more that I don't believe the system works and am always so impressed by it. I write your name with some numbers on a piece of paper, drop it in a box, and days later it shows up at your house?! Magic!
Anyway, when I decided not to do a crowdfunding campaign for this new album, I knew I still wanted to make some of the "perks" available and I picked my favourite. Here's to spending time with pen and paper, to the squeak of the mailbox drawer opening and closing, to the journey of a postcard from my hands to yours.
As I write this, there are 11 days left to still get the song story postcards (the pre-order ends April 15th!) and you can do so here.
Then keep an eye on your mailbox come May. Spring and postcards are coming.
cc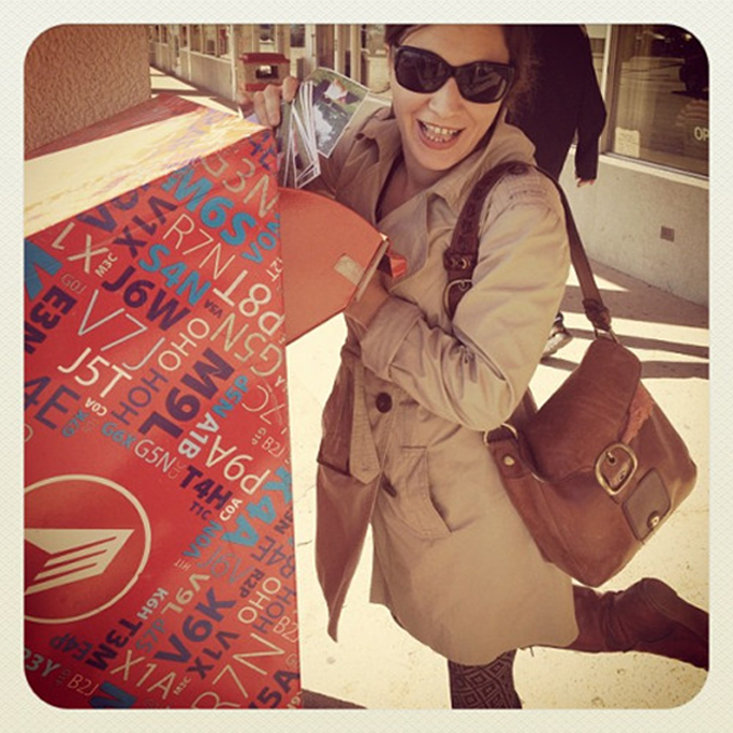 I find it hard to think "write a letter" without getting a little Joni singing in my head.