it's been one week on the road, and today i headed to cbc radio saskatoon to do an interview with sook-yin for DNTO.
very exciting, as i love DNTO and consider myself one of the biggest fans of all of CBC's hosts. it was great. i'm learning a lot this tour about interacting the media, observing more often how THEY'RE responding, instead of how I am. but sook-yin and producer sarah really opened it up for a warm and welcoming chat. thanks ladies.
and now i'm officially collecting cbc radio locations. being a vancouver girl, i've been to the cbc on hamilton a number of times. my first radio interview ever (I miss Richardson's Roundup!) was done at cbc studios in london england. but two locations isn't enough for a collection, right?
three however, is. i've decided.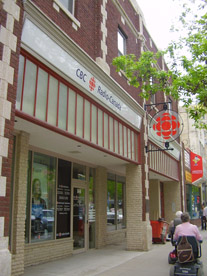 yesterday was a day off, spent wandering around regina. they advertise city wide wireless, but getting on it is not an easy task. so i skipped checking email and sent postcards instead. those of you waiting to hear back from me, check your mail in a few days…
the sun is shining in saskatchewan and i am grateful for it. there are two cats here in this house, napping in puddles of sun. i think, as there's no where to drive to today, i shall find a spot to nap in too.
la la.
c